We provide a variety of professional waste management services for your home, business or event.
Brommer Sanitation and the City of Sioux Center joined together in 1974 with the first city contract for the manual residential garbage collection system.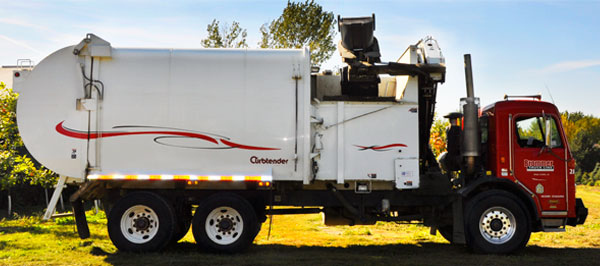 Garbage collection is on Mondays, Tuesdays, Thursdays and Fridays beginning at 6am. Residents of Sioux Center should have all materials in their can and out for collection by 6am on the scheduled pickup day. If garbage is not out in time for regular collection, it can either be picked up the following week, or you may request a special pickup (for an additional fee).
In 2002 Brommer Sanitation and the City of Sioux Center switched to the one-man automated garbage collection system.
Alvin "Butch" Kruid has been with Brommer Sanitation since 1969 riding on the back of the garbage truck picking up trash until 2002 when Brommer Sanitation partnered with the City of Sioux Center and went to the Automated Garbage Truck system with the new grey city cans.
Garbage pickup is Monday, Tuesday, Thursday and Fridays beginning at 6am.
Questions? We have answers to the most frequently asked residential service questions.
We have a few different size containers to choose from depending if you are living in the city limits, rural area or small business and recycling.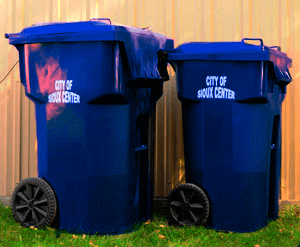 City Residential Recycling Cans
Available in 65 gallon and 95 gallon sizes.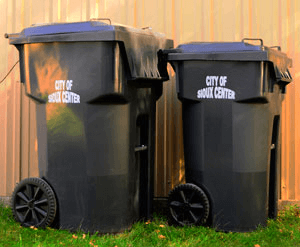 City Residential Garbage Cans
Available in 65 gallon and 95 gallon sizes.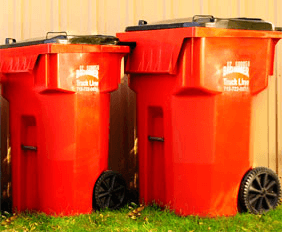 Red Rural & Small Business Cans
Available in 65 gallon and 95 gallon sizes.
We offer quality dependable garbage service to Sioux Center and the surrounding communities. Our professional staff works with commercial owners to meet their garbage collection needs.
From small home remodeling or cleanup jobs to large construction projects, we offer a variety of dumpsters and open top roll offs to make removal of trash easier. Our staff will help you determine exactly what size container is needed and will deliver it in a timely manner.
Brommer Sanitation has dumpsters and roll off containers in many different sizes for your entire cleanup or construction needs. From the small clean-up jobs or construction projects to the larger projects that accumulate more material needing to be removed.
|   | Width | Length | Height |
| --- | --- | --- | --- |
| 2 yd | 5′ | 3′ 5″ | 4′ |
| 3 yd | 5′ | 5′ | 4′ |
| 4 yd | 5′ | 6′ 5″ | 4′ |
| 6 yd | 5′ | 9′ | 4′ |
Our commercial recycling service is available on Tuesday afternoon and Wednesdays for businesses in Sioux Center.
Questions? We have answers to the most frequently asked commercial service questions.
Our shredding services are cost effective, environmentally responsible and secure.
Our document shredding solution provides customers an alternative option for safe document destruction. Rather than shredding material on your premises, the document shredding takes place at our facility. When you work with our document shredding you're choosing a document destruction company that you can rely on. We welcome you to visit our shred facility at anytime.
All material is brought to our facility and put in a single room with the Ameri-Shred Shredder.
All material is destroyed by state of the art shred machinery. Our shredder is capable of shredding in minutes what might take hours to complete in house.
All shredded content is collected and processed for recycling.
Make sure all your pop cans are Iowa Deposit Refund Cans and were purchased in Iowa.
We do not take pop cans in small bags. Please put cans in 30 gallon clear garbage bags or pop can bags.
Glass Bottles need to be in cardboard boxes-not in plastic bags to prevent breakage and for the safety of our workers.
We would appreciate it if your pop cans were rinsed out
Monday & Wednesday
8am-Noon & 1pm-3pm
Friday 8am-Noon & 1pm-3pm
Saturday 8am-Noon
Pepsi & Coke Products
American Bottling
Hy Vee
Sams
HiLand
Clover Valley
Old Milwaukee
Miller
Budweiser
Glazer
Crinc
IGA
Our Family
Dollar General Brand
KMart Brand
Nestea
Litpon
Gatorade
Sunny Delight
Snapple
Slim Fast
All juice cans and bottles
Non-Carbonated water bottles
Shur fine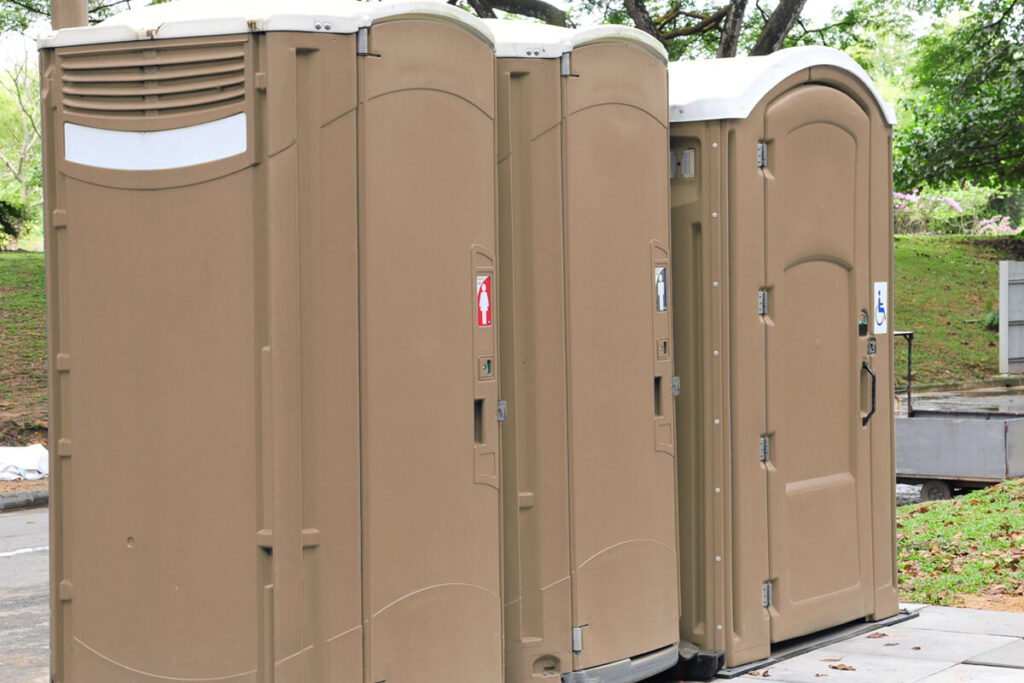 Brommer Sanitation now offers portable toilet rentals. Call 712.722.0631.
Deluxe Units
Handicap Accessible
Hand washing Stations
Hand sanitizing Stations